Massage in Malmö
FULL RANGE OF TREATMENTS
Treat yourself to a pampering massage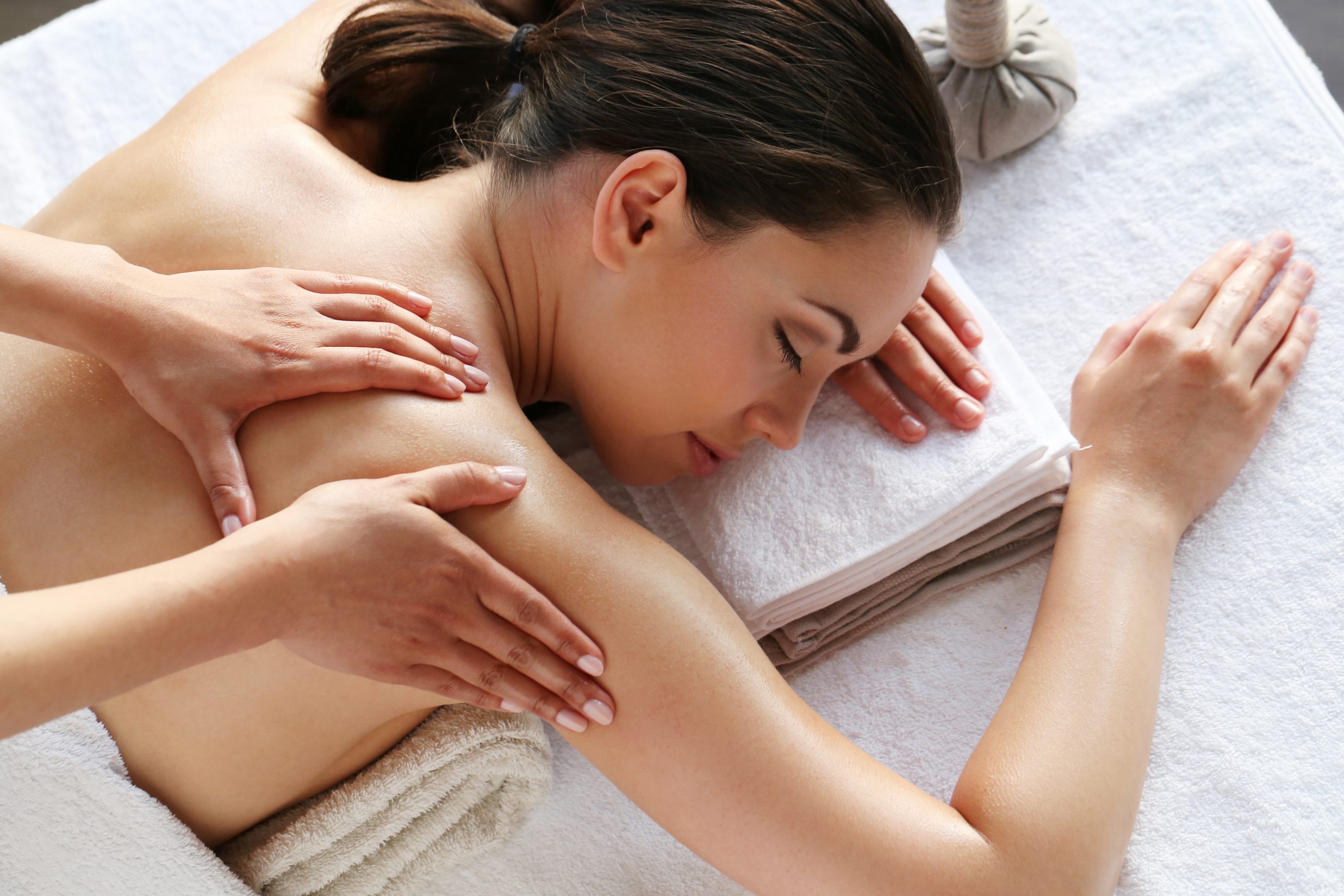 Massage adapted to the client's wishes
It is important that you can feel safe and relaxed when receiving a massage. We value open and good communication with our customers. When you go for a massage, the massage therapist will ask you what your preferences are. You have the opportunity to tell us if you prefer a looser or tighter print or if you have any injuries or medical conditions to take into account. Do you want a purely relaxing massage or do you want the massage therapist to concentrate on a specific area of the body, such as the shoulders or back? If you have an illness or injury, you may want to tell us about it and, for more serious conditions, consult a doctor before treatment.
Usually when receiving a massage, the massage therapist leaves the room and lets the client undress and then lies down on a special massage table and is covered with soft sheets. Not everyone is comfortable taking off their clothes. Then just let us know; the massage works well even if you're wearing loose clothing. It is also possible to sit fully clothed on a chair during the massage. The important thing for us at Celebrate Beauty in Malmö is that you feel comfortable and can relax completely during the massage session.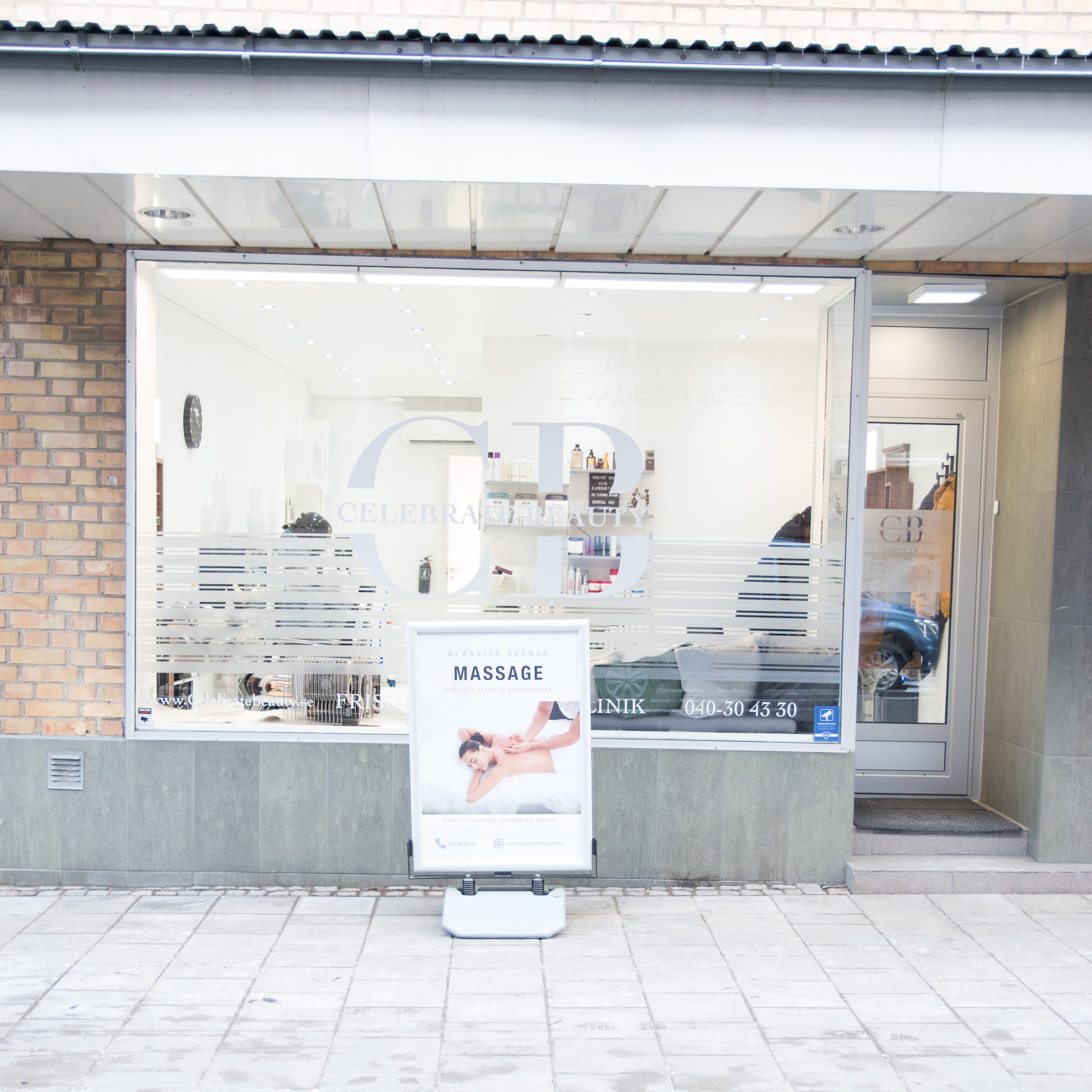 Beneficial massage oils
We use a variety of nutritious and healthy oils when giving massages. The oils contain essential vitamins; they soften and rejuvenate the skin. We usually combine the type of massage with an oil that we think goes well together, but again, it is of course the customer's wishes that are most important. If you prefer a particular oil or scent and especially if you are allergic to something, you should tell us so we can adapt the oil – or if you prefer lotion – to your wishes and needs. The function of the oil, in addition to being beneficial to the skin, is to reduce friction for a better massage.
For all our massages, Malmö's Celebrate Beauty is a priority:
responsive and natural communication with our customers
We adapt to the needs and wishes of each customer.
Beneficial and relaxing massage to boost health
A pleasant overall experience
Celebrate Beauty – your massage parlor in Malmö.

In the center of Skåne's beautiful city of residence, less than ten minutes on foot from the Malmö Opera House or from Slottsparken, you are always welcome to come to us for a relaxing massage. The massage session lasts from 10 to 90 minutes, depending on the type of massage you choose and how much time you have.
Massage can range from lightly stroking the skin with your hands, to actively working to release tension in the muscles with harder pressure. You can choose massage therapy for a purely relaxing experience and also to treat or prevent injuries. Regular massage is a good way to take care of your health as relaxation reduces stress hormones and can prevent a range of stress-related conditions. It prevents stiffness and pain in the shoulders, back and neck. The relaxation and stimulation provided by the massage also boosts the immune system.
At Celebrate Beauty in Malmö we adapt the massage to each individual customer's wishes. We also offer three different packages so that you can get the type of massage that suits you best.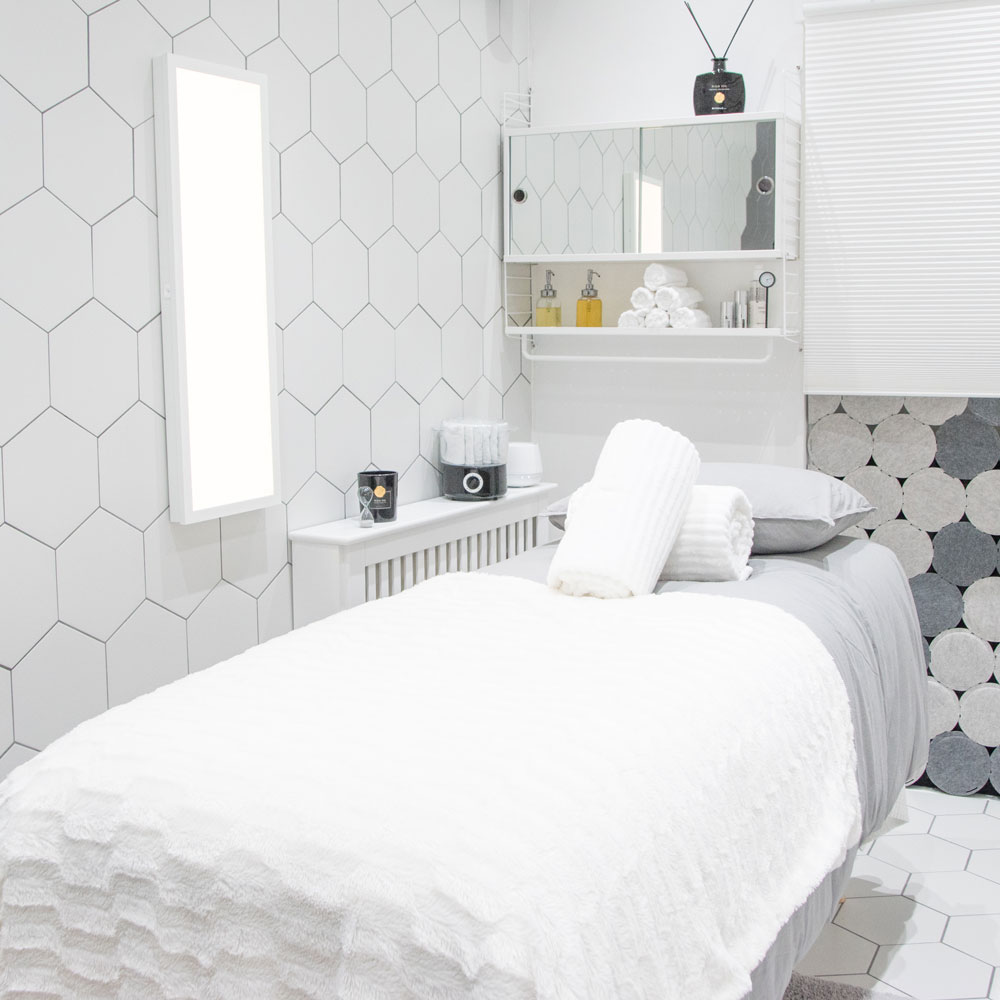 Other preferences that we like to customize are whether you want to listen to relaxing music during the massage or if you prefer silence. The same goes for whether or not you feel comfortable talking to the massage therapist during the treatment. You should be able to feel completely comfortable telling the person massaging you all this. The more we know about your preferences, the better we can ensure the best possible experience. We want you to feel completely comfortable with us, whether you choose a short or a longer massage. It is also important that the massage therapist understands how much pressure you want during the massage. You can communicate this both before and during treatment so that you get the strength you want without making it uncomfortable or painful.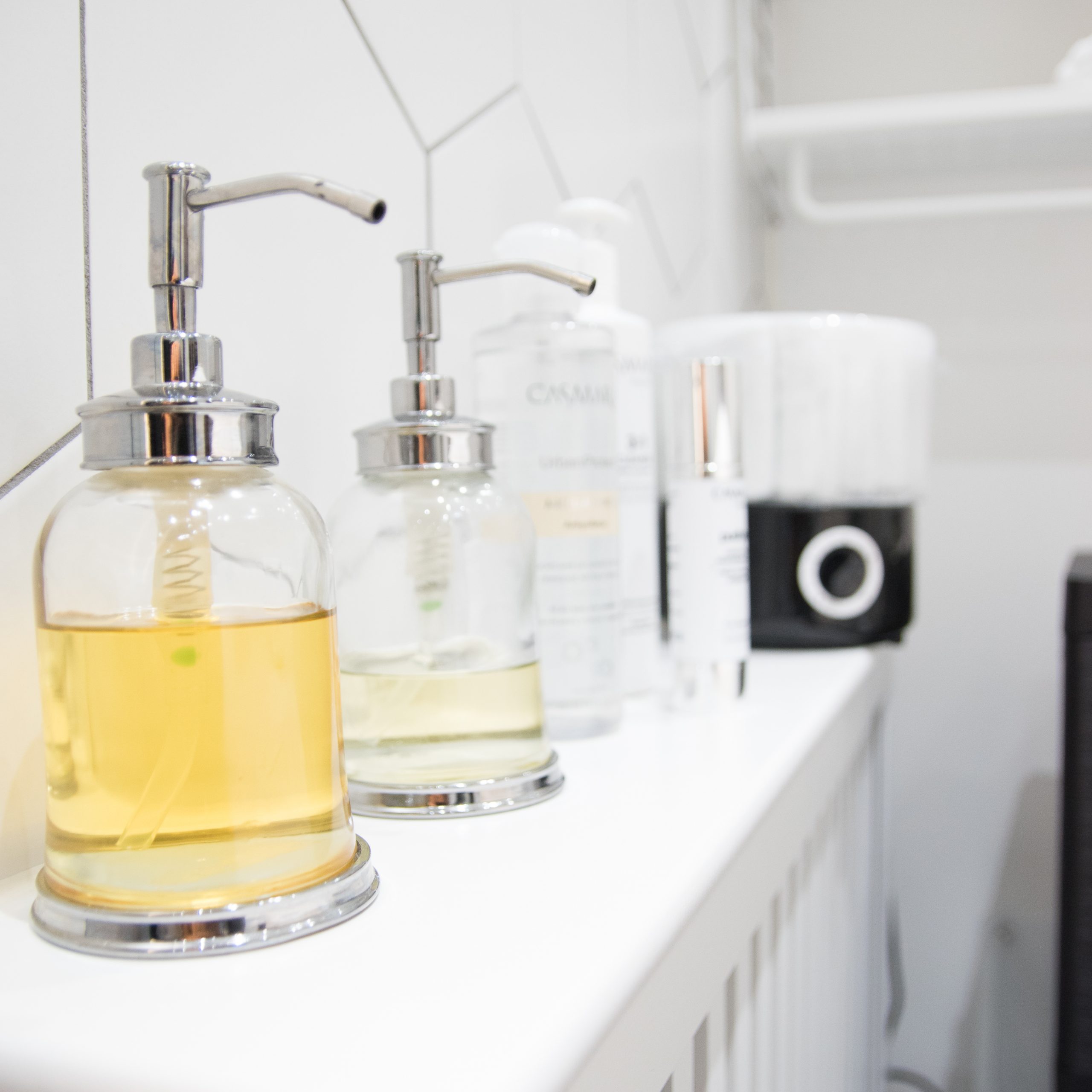 Swedish classic massage

The Swedish classic massage has become a popular form of massage throughout the world. It is pleasant and soothing and aims to actively work on tension and any pain or stiffness in the muscles. Our professional massage therapists are trained to locate sore areas of the body and release tension to relax the body.

Kneading, stroking and pressure are used to benefit the tendons and ligaments and to relax the muscles. This massage is a full-body treatment and perfect for releasing tension in the body and achieving complete relaxation. For this type of massage, we generally use almond oil, which is rich in vitamins A and D and contains several beneficial fatty acids.
Pregnancy massage
Pregnancy is a transformative period in many ways, not least for the body. Life change and hormones can bring happiness and expectations but also stress and tension. As the baby grows, the body feels the strain and it is not uncommon to experience muscle aches, strains, pain, swelling and tension.
Our pregnancy massage is a perfect way to give your body and mind a well-deserved break and relaxation. It is specially designed to be beneficial during pregnancy, taking care of stress areas, sore spots and providing optimal relaxation. Treatments should be avoided during the first twelve weeks of pregnancy, but from week thirteen onwards you are welcome to visit Celebrate Beauty in Malmö for a specially adapted massage. We have customers from all over Skåne who come to us to enjoy a caring and relaxing experience. The massage relieves pain, stress and treats sore spots. We recommend regular treatments which can also act as prevention during pregnancy.
Luxury massage for body and face

Join us at Celebrate Beauty in Malmö for an experience of pure Scanian luxury. We start the treatment with a pleasant and soothing fifty-minute massage that promotes blood circulation and mobility. This is followed by a facial treatment with cleansing of the face, neck and décolletage. We also include a skin analysis. This beautifully holistic treatment is then followed by another twenty minutes of beneficial massage to ensure complete well-being and relaxation.
For this massage, we use an exclusive rice frog oil that enriches the skin and makes it supple. The treatment ends with a nourishing day cream, adapted to your skin type.
We advise against treatment in case of the following contraindications
FACIAL MASSAGE
Sunburned skin with redness.
Infected or inflamed skin due to the risk of infection.
Acne (furuncles and carbuncles).
Swollen lymph nodes, fever, signs that the body is fighting an infection…
BODY MASSAGE
Early pregnancy (first 3 months).

Infection.

Inflammation, for example in muscles.

Fever, infection in the body.

Vascular diseases, you can dissolve clots, apply deep massage.

Severe painful varicose veins.

Swollen lower legs if the cause is narrowing of vessels.

Haemophilia, some risk of bleeding.

Skin conditions such as very severe acne and troublesome eczema.

Open wounds.

Osteoporosis, osteoporosis, applies to deep massage, effleurage is allowed.

Certain medications, such as cortisone, can cause bone fragility.

New scars (6 – 12 months).

herniated discs.

Fresh fractures, acute trauma to the vertebral column.
Opening hours
Monday-Thursday 08:00-20:00
Friday-Sunday 10:00-18:00